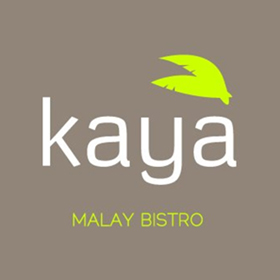 Kaya Malay Bistro

Thai, Malaysian | Casual Dining
Address:

1063 West Broadway
Vancouver, British Columbia, V6H 1E2

Phone: (604) 730-9963

Website: www.kayamalay.com
Reviewed by:

Raymond Y.
Apr. 21st, 2018 - 10:05 AM
Good food and good service and convinced location
Reviewed by:

Anonymous
Nov. 9th, 2016 - 7:24 AM
I was only there for take-out and the server didn't seem to know about the Qooway Rewards program so she had to get her manager to help. I did get the 10% discount but I never received my points for the purchase! Aside from that the Mi Goreng wasn't oily, it did lack a bit of beef as 75% of the dish consisted of noodles and the food was cold by the time i walked back to my office (which was a 5 min walk).
Reviewed by:

Anonymous
Nov. 26th, 2015 - 10:48 PM
Service was prompt. I was only here for take-out. Ordered the Pad Thai and the side of lime adds a kick to the tasty noodles. No fuss in using Qooway. Will be my go-to place as it's close to work!
Reviewed by:

Anonymous
Nov. 4th, 2015 - 12:21 AM
Came here during the lunch rush. Service was quick and using the Qooway discount was easy. Great spot for work lunch. Will be back to try other menu items.
Reviewed by:

K W.
Oct. 11th, 2015 - 1:14 AM
great food. servers always polite. spacious and never feel cramped. good value for satays
Reviewed by:

Melanie C.
Oct. 2nd, 2015 - 1:49 AM
Dishes were plated well, though food cooled down pretty quickly.
Reviewed by:

Cynthia C.
Sep. 14th, 2015 - 12:17 AM
Delicious and amazing food! Staff was really friendly and checked up on us quite often!
Reviewed by:

Anonymous
May. 25th, 2015 - 4:17 PM
I think I'm addicted to this place now ever since I've had their Soft Shell Crab! And this Qooway discount is more of a reason to keep coming back! =). Tried their Seafood Bouillabaisse in Assam Curry Sauce ($13) this time around. It consisted of 3 small mussels (shells intact), 3 shrimps, 2 small pieces of squid, and a few pieces of fish. I was a little disappointed as the curry was too watery. Their Roti Canai comes in 2 large pieces for $7 which is a great deal.
Reviewed by:

Kim J.
May. 7th, 2015 - 1:31 AM
One word ROTI! Love this place
Reviewed by:

Jessica C.
Apr. 16th, 2015 - 4:30 PM
I went back to try other menu items. ordered the new item, Malaysian Laksa and I prefer this over the Singapore Laksa as it wasn't as creamy and sweet tasting. Had their Mee Goreng and there were huge slices of beef in this noodle dish. They did not dissappoint me! I stopped going to Banana Leaf already.