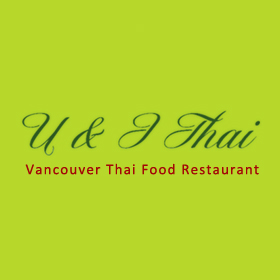 U & I Thai Fine Cuisine

Thai | Family
Address:

3364 Cambie Street
Vancouver, British Columbia, V5Y 2A1

Phone: (604) 875-6999

Website: http://www.uandithai.com
Reviewed by:

Doris T.
Apr. 27th, 2017 - 10:17 PM
Delicious food and excellent service
Reviewed by:

Erica N.
Aug. 20th, 2016 - 8:15 PM
Green queen curry is very special.
Reviewed by:

Teresa L.
Jul. 21st, 2016 - 9:29 PM
Penang With Chicken. Excellent!
Reviewed by:

Jocelyn W.
Jul. 24th, 2015 - 7:28 PM
Amazing, quality Thai food. It's a little on the pricier side, but the quality is outstanding. Service is friendly and fast too. Will definitely be back again and again.
Reviewed by:

Paul L.
Jun. 9th, 2015 - 7:58 PM
I came here my PPE Peeps and it was sooooo good. We ordered spicy but the server V said she only said medium in anticipation of the spice overwhelming us. My friend's fried rice was especially tasty. Highly recommend fried rice with crab meat! :)
Reviewed by:

Doris T.
May. 16th, 2015 - 12:53 PM
Nice location, great food and the service is awesome
Reviewed by:

Carey L.
Apr. 27th, 2015 - 9:34 AM
Pretty authentic experience, all staff dressed in beautiful Thai clothing and had great service. Ordered curry fish cakes, pad Thai and Tom yum soup. Curry fish cakes were moist and sauce was flavourful. Pad Thai was the authentic kind with tamarind and a bit spicier than expected but tasty. Last, their Tom yum soup was fairly ordinary with a good balance of tart and spices
Reviewed by:

Alan C.
Apr. 1st, 2015 - 11:20 AM
Dropped by briefly last week for takeout as it was on the way. Conveniently located with quick, friendly service from the server when the lunch rush was presumably over. I ordered the Pad Thai with chicken at a moderate spice level. Great kick to it if you enjoy the spice! Topped off nicely and plentifully with peanuts, bean sprouts, and a wedge of lime. Despite taking it with me and travelling roughly 30 minutes before indulging, the Pad Thai remained hot and tasty. Great tamarind flavouring, chewy noodles, large portion. Great portion size for the price. Getting points with the Qooway app was icing on the cake. Can't comment too much on the ambiance as I didn't stay long, but it looked clean and nicely decorated. Will return to dine in person and to try other menu items in the future. Recommended. 2 thumbs up.