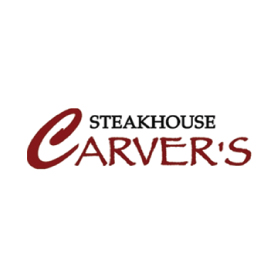 Carver's Steakhouse & Lounge

Western | Fine Dining, Steakhouse, Seafood
Address:

7211 Westminister Highway
Richmond, British Columbia, V6X 3K3

Phone: (604) 207-7107

Website: www.carversdining.com
Reviewed by:

Sherry J.
Jun. 30th, 2017 - 9:06 PM
Great service. Food is great.
Reviewed by:

Sherry J.
Jun. 28th, 2017 - 2:12 PM
Carvers steak house is one of my favourite restaurants
Reviewed by:

Teresa L.
Mar. 2nd, 2016 - 8:16 PM
Excellent service whenever you dine at Carver's. Their steak is perfectly done to your liking and the Seafood Chowder is a must-have!
Reviewed by:

Ludia L.
Dec. 17th, 2015 - 9:46 PM
Delicious meal! We had the blackened tuna, grilled salmon, and sirloin steak. We all love the trio cheesecake. Service is excellent.
Reviewed by:

Mandy K.
Mar. 27th, 2015 - 9:59 AM
Nice place. Food were great. We ordered Seafood linguine and BBQ pork ribs. Honestly, the seafood linguine was not salty enough, but not bad. The BBQ pork ribs tasted awesome. Especially,the sauce and the mashed potato. We went there to celebrate my friend's birthday and brought the birthday cake by ourselves. The waitress was very kind and served the cake in pieces to us after we finished dinner; the manager helped us to pack the rest of the birthday cake well so that we can bring back home easily. Awesome services, very impressive. The price is very reasonable too. A great place to good and try its combo next time with my family. :)
Reviewed by:

Alan Y.
Dec. 11th, 2014 - 4:57 PM
Loved their steak! Dessert was decent. Great service.
Reviewed by:

DouMing M.
Dec. 21st, 2013 - 12:51 PM
Went here for a Christmas dinner. We started with "Half shell champagne baked oysters" - which I had accidentally dipped too much sea salt into (so mine became a bit too salty). Then came the "Roast Turkey" dinner and it was nicely plated and hot! Plenty of protein. The "Butternut Squash Cappuccino" didn't quite suit my tastes - it was quite awkward to be honest. But the "Dark and White Chocolate Terrine" was great. Couldn't eat too much though because it was a bit too sweet!
Reviewed by:

Anonymous
Oct. 30th, 2012 - 11:17 AM
Servvice was very attentive and ambience was quiet. Steak i had was good, not the best ive had as i prefer mine to be a bit more flavourful. Some would prefer the light taste here though. Layered potato that came with the steak however was excellent.
Reviewed by:

Judy W.
Jul. 11th, 2012 - 9:08 PM
waiter very good and sensitive to wishes..food great.. were well received when we arrived too.
Reviewed by:

James O.
Jul. 6th, 2012 - 5:54 PM
4 out of the 5 of us ordered the rack of lamb. It was cooked to perfect mdeium rare, juicy and tender. I particularly loved their scalloped potatoe which is my top choice of starch. The cheese cake was so light and delicious that we all emptied our plates. The manager Michael makes my dine-out experiencce one of the best to remember.